work
Back to Portfolio
The Shipyards
We feel honoured to be a part of creating a special space that allows for the public to be outside and enjoy their community. The Shipyard Commons (formerly known as Lot 5) is located in the heart of The Shipyards in North Vancouver, and offers residents and visitors a unique, interactive, gathering place. The Shipyard Commons is a re-construction of the historic Machine Shop, creating the perfect covered public space for year-round use. This area is home to a community splash park in the summer months and a free outdoor skating plaza in the winter. The Byart Pergoline retractable awning system is designed to provide a stylish and functional solution through all seasons. The system offers ease of use with its advanced technology & proven durability with its high-quality materials.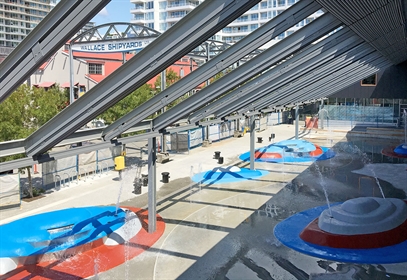 Products Used
PVC Pergola: Byart Pergoline
Our Latest Brochure
Imagine the possibilities for your project and find a solution that's right for you.
DOWNLOAD NOW