blog

Back
Things to Consider When Buying a Louvred Canopy
February 08, 2021
Louvred canopies are versatile structures - for example, you can use them as a lounge area, outdoor office, pool house, or a gathering place for family and friends.
Our louvred canopy options offer endless customization and design possibilities and with so many options, it can be hard to narrow it down - so let's review the most important criteria, using our Renson canopies as an example: What material is the canopy system made of?
The very first question you need to ask before buying a louvered canopy is whether you prefer a wooden or an aluminum structure. The latter material is extremely light yet sturdy and guarantees a beautiful and solid finish. Aluminum is also low-maintenance, resistant to UV radiation and available in numerous colours and profiles.
If you prefer things au naturel, wood is the more logical option for you. Please note, however, that it is not maintenance-free and can become dirty or turn greenish over time. Finally, wood is not water resistant and less durable than aluminum.
Having trouble deciding?
As a unique feature, with our Renson canopies, you have the option to combine your aluminum canopy with loggia sliding panels or motorized screens that are used for privacy and to enclose your canopy.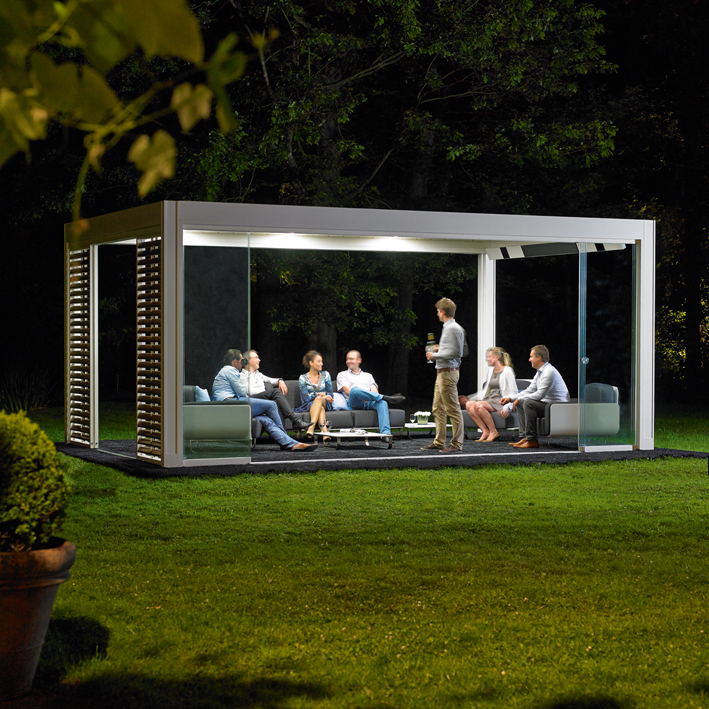 Do the louvres of the canopy system tilt or tilt & retract?
We recommend selecting a canopy with adjustable louvers, as it not only allows you to choose whether you want to bask in the sun or enjoy the shade, but also ensures you'll always be dry and comfortable.
To make the operation of the system simple and easy, they are equipped with a remote control (or an iOS app).
Will the canopy protect you from rainfall?
Make sure the canopy's roof is resistant to heavy rains. The Renson Camargue, for instance, will keep you dry even if it rains 180 millimeters per hour for two minutes; the kind of rainfall so heavy that it only occurs once every fifteen years.
Attention is paid to the smaller details, enabling you to tilt the louvers to enjoy the first rays of sun immediately after a rainfall. Raindrops are captured in the louvres and will flow away without dropping below on your patio.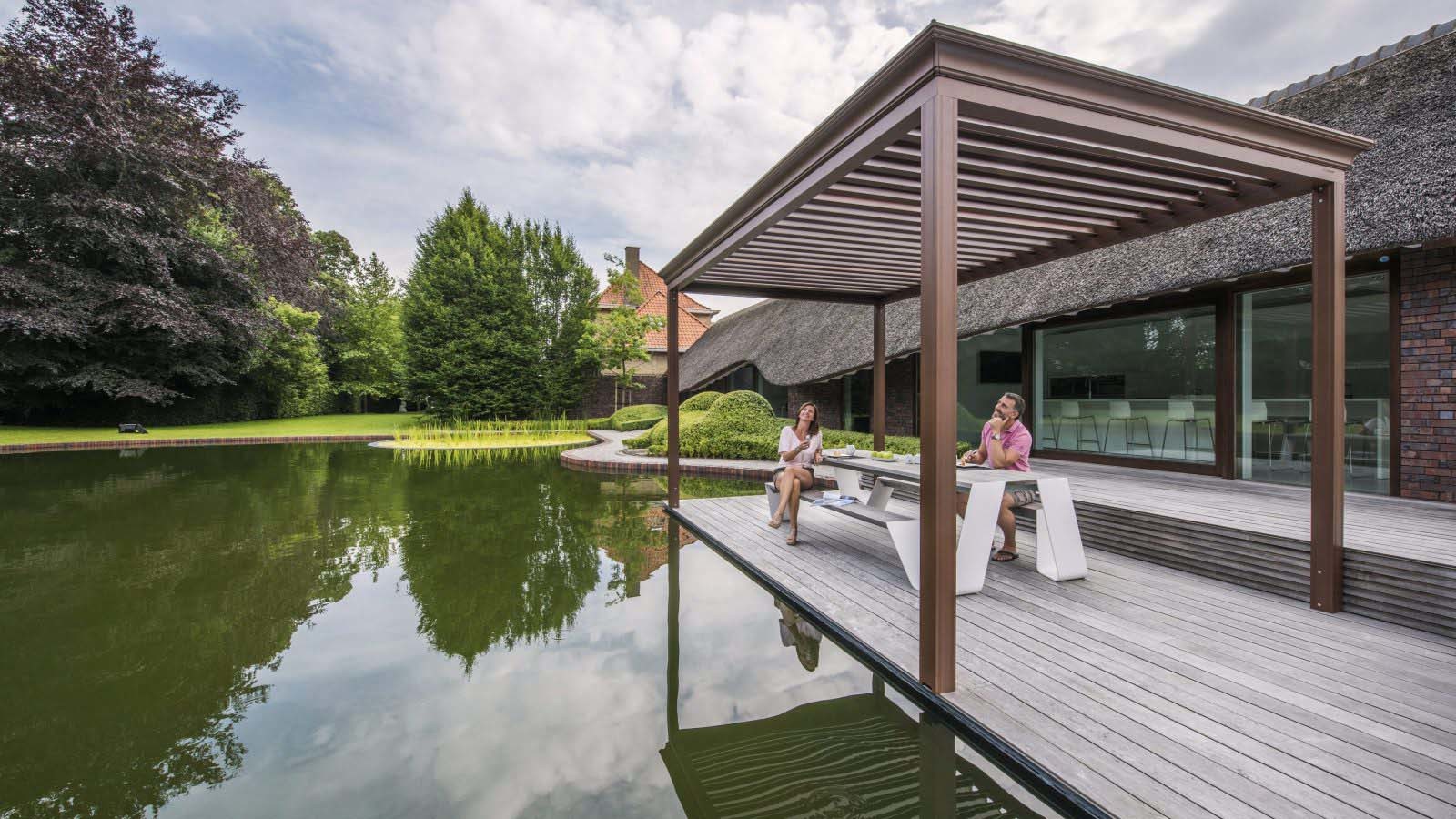 Does the canopy offer any customization options?
Atria's louvred canopies offer a variety of customization options to complement the vision you have for your space. You can choose from freestanding or attached canopies to combining multiple patio covers to seamlessly cover a large area.
Be sure to browse our lighting, heating, sound and enclosure options listed under each canopy.
Click on the video below to see one of our completed projects!
Interested in learning more? Head over to our Bioclimatic Pergolas page to view our full line of louvred canopies!

Back
Recent Posts

Prev Post
Next Post

Our Latest Brochure
Imagine the possibilities for your project and find a solution that's right for you.
DOWNLOAD NOW